Perc Dry Cleaning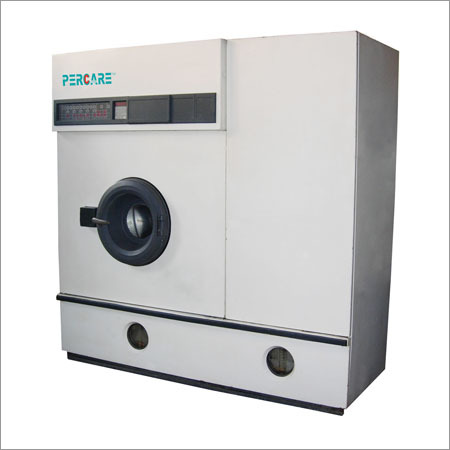 Perc Dry Cleaning
Product Code : 01
Price And Quantity
Minimum Order Quantity
1 Set
These machines uses transparent, non-flammable chemical named 'Perchloroethylene' to Dry clean clothes. This closed loop dry cleaning machine gives first class results when combined with additives like detergents, stain repellants, softner and odour absorbers. The in build distillation unit and oil recovery unit makes this machine safer for operators and the environment.

Closed loop Dry cleaning machine with more than 99.5% solvent recovery.
Technical specifications and product information are based on the latest information available at the time of printing and subject to change without notice.
Additional Options: Consult factory or Distributor.
Standard Features:

2 or 3 self cleaning SS solvent tanks.
Latest Touch screen HMI with fault detection controls
User defined program storage with Transferable Recipes
Aerodynamic Recovery section
Solvent Recovery via Refrigeration Technology
Self Cleaning emission free still
Cage overflow preventor.
Still Overflow preventor
Soap Dosing unit
Optional features:
Steam heating or Electric Heating
Default color is white (can be changed acc. to requirement)
Product Type: Perchloroethylene Dry-Cleaning machine (Perc Machine)

Technical Specifications

Model

Units

PPA-10

PPA-15

PPA-22

PPA-30

Max Capacity (Dry weight)

kg.(lbs)

10 (22)

15(33)

22(48)

30(66)

Cage Diameter

mm(in.)

813(32)

813(32)

1016 (40)

1016 (40)

Cage Depth

mm(in.)

400(16)

560 (22)

560 (22)

770 (30)

Cage Volume

cu.m(cu.ft)

0.21 (7.42)

0.28 (10.2)

0.453 (16)

0.617 (21.8)

Washing Speed

RPM

30-35

Extract Speed

RPM

400-550

Max G Force




138

138

172

172

Operating Load (Steam/Electric)

KW

8/14

9/15

12/18

12/18

Machine Height

mm(in.)

2082 (82)

2286 (90)

2286 (90)

2286 (90)

Machine Depth

mm(in.)

1423 (56)

1423 (56)

1500(59)

1700(67)

Machine Width

mm(in.)

1828 (72)

1828 (72)

2133(84)

2133(84)

Blower Motor

Kw(hp)

1.5 (2)

1.5 (2)

1.5 (2)

1.5 (2)

Cage Motor

Kw(hp)

2.2 (3)

3.7 (5)

5.2(7)

5.2(7)

Solvent Pump

Kw(hp)

0.75 (1)

0.75 (1)

1.1(1.5)

1.1(1.5)

Compressor

Kw

3.5

3.5

4

4

Air Heater

Kw

6

6

6

6

Distillation Heaters

Kw

9

9

12

12

Operating Volts/Hz

400/50
Trade Information
Main Domestic Market
North India